About DALY
One day in 2015, A group of senior BYD engineers with the dream of green new energy established DALY. Today, DALY not only can produce the world's leading BMS in Power and Energy storage application but also can support different customization requests from customers. We believe that DALY will help China to achieve overtaking in the new energy industry and make greater contributions to the global energy & environmental crisis in the coming future.
At present, DALY has a mature industrial chain, strong technical strength, and extensive brand influence. With technological innovation, DALY has established a "DALY IPD integrated product research and development management system", and has acquired around 100 technologies patents. The products have passed the lS09000 Quality Management system, EU CE, EUROHS, US FCC, Japan PSE, and other certifications, and are sold well in more than 130 countries and regions around the world.
Vision/Mission
Vision: become the world's leading new energy enterprise driven by technology
Mission: Innovation and intelligent technology to create a green energy world
Core Value
Respect: Treat each other as equals and respect each other
Brand: Excellent Quality and reputation
Sharing: Gain success, share fairly
Companions:  Move forward hand in hand with the same goal
Application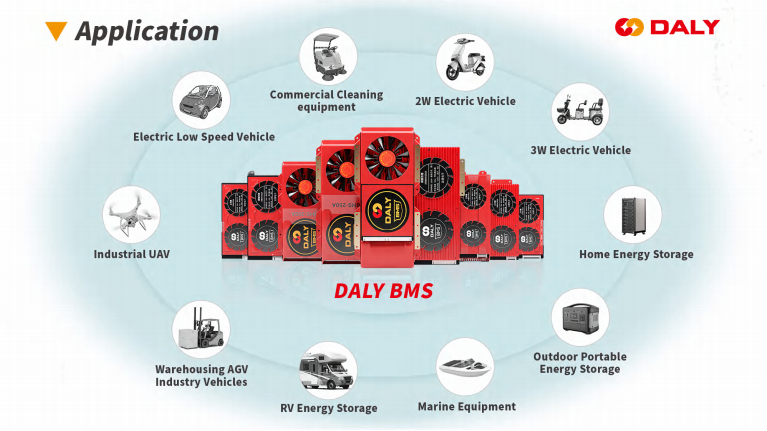 Main Business and Products
Complete R&D and manufacturing processes for various customization requests
Support customization requests range from 3-48S, 10A-500A BMS in various fields
Structure customization: color customization, size customization
Hardware customization: function customization, parameter customization
Software customization: communication protocol, application program ( such as UART, RS485,CAN, Bluetooth APP,4G IOT-GPS,LCD, PC software)
Technology and Product Roadmap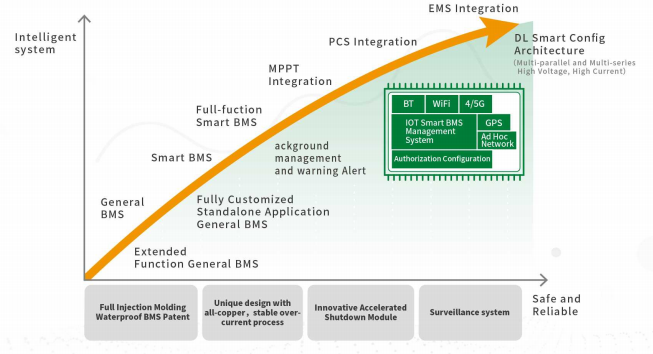 General BMS
Faster,Stronger, More convenient

Smart BMS
Visual, Adjustable,Controllable

Parallel BMS
Five outstanding changes
Increase the battery capacity temporarily
Install battery flexibly as required
Battery pack modular stock sale
Replace the battery continuously
Separate battery to facilitate transportation
Active Balance BMS
Four core functions
Sensitive detection and full-time active equalization
Smart communication and Real-time control
Improve performance and delay deterioration
Equalization of power transfer
High Voltage 48S 200V BMS
33S-48S/60A-200A/100V-200V high voltage, for Li-ion/LifePO4/LTO
Efficient and Standard Production Process
Efficiency: Automatic equipment improves operational efficiency, Assembly line production mode
Standard: The workshop adopts a dust-free temperature-controlled, moisture.controlled and ESD-proof production environment, The quality system passed GB/T 19001-2016IS09001:2015 and IPC-A-610
Leading: The product adopts a special glue injection sealing process,Professional engineering. Quality and production teams continue to optimize products
Consistency: The smart and general BMS have passed the test of professional equipment,Quality control of each process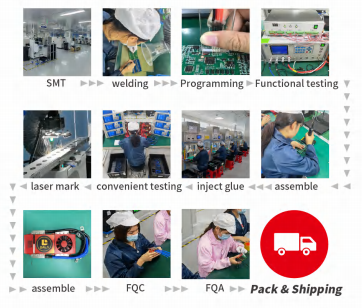 Product Qualification
Service and Support
3 Years Warranty
In order to thank our partners for their support, and to empower our partners to create more value, we will extend the warranty period from 1 year to 3 years for products returned by our partners (BMS only,excluding accessories and wiring ).
360 Service
For B2B customers, the Daly Custom-er-Focus team including the Project Manager, R&D team, and Sales team is responsible for project kickoff, product development and delivery, and after-sales service.
Global Partners
At present, DALY's overseas market accounts for about 70, and partners are located in more than 130 countries and regions on 7 continents with a global footprint.
---
Post time: Sep-14-2023