Standard LiFePo4 BMS16S 20S 24s 10A-250A common port
Product Detail
Product Tags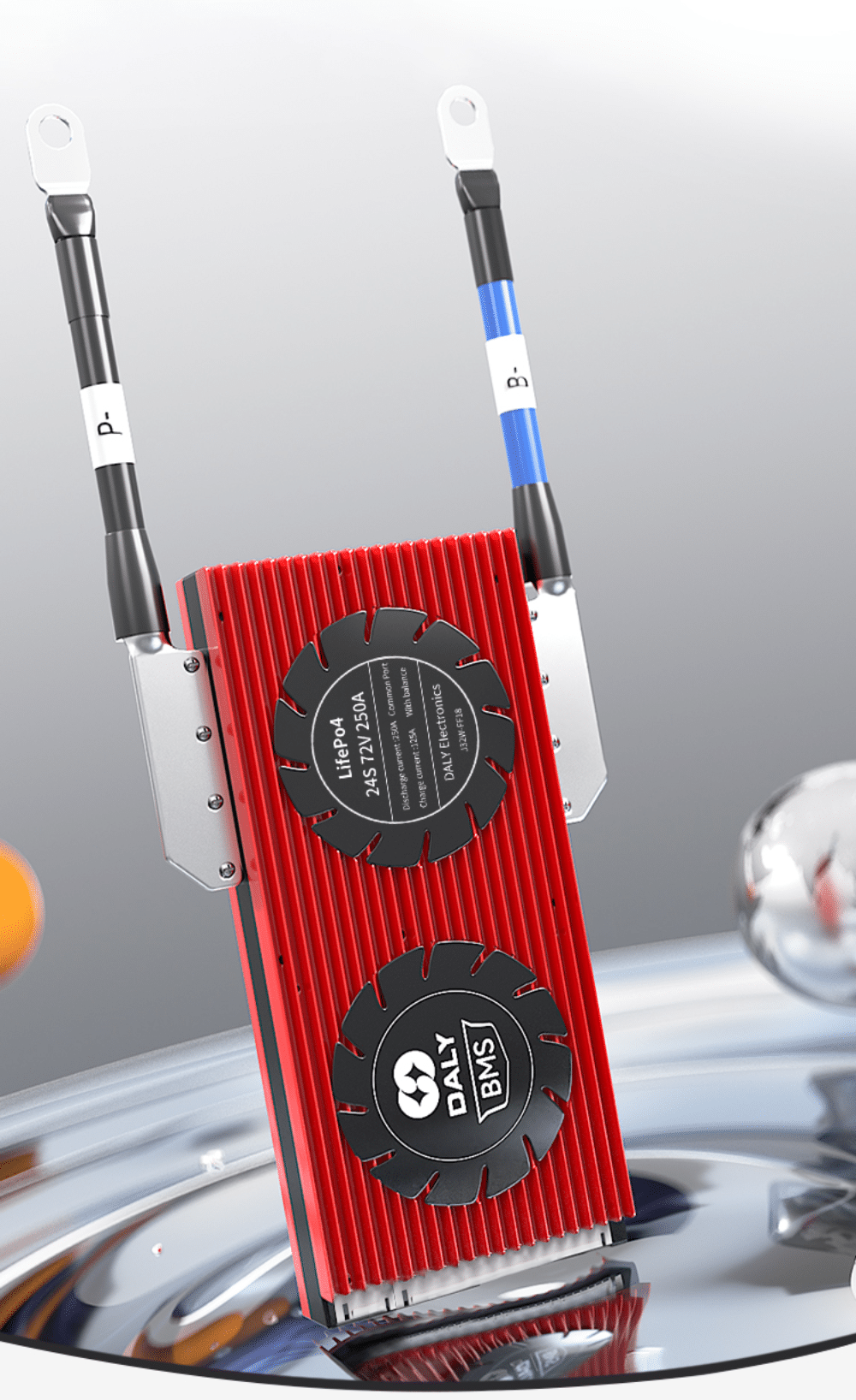 Moisture-proof, waterproof, shockproof, anti-extrusion BMS
Most of the BMS on the market use spliced and assembled shells, which are mostly difficult to achieve true waterproofing, burying hidden dangers for the safe use of BMS and lithium batteries. However, Daly's technical team has overcome difficulties and developed a patented technology for plastic injection. Through fully enclosed one-piece ABS injection molding, the waterproofing problem of BMS has been solved, allowing customers to use it safely.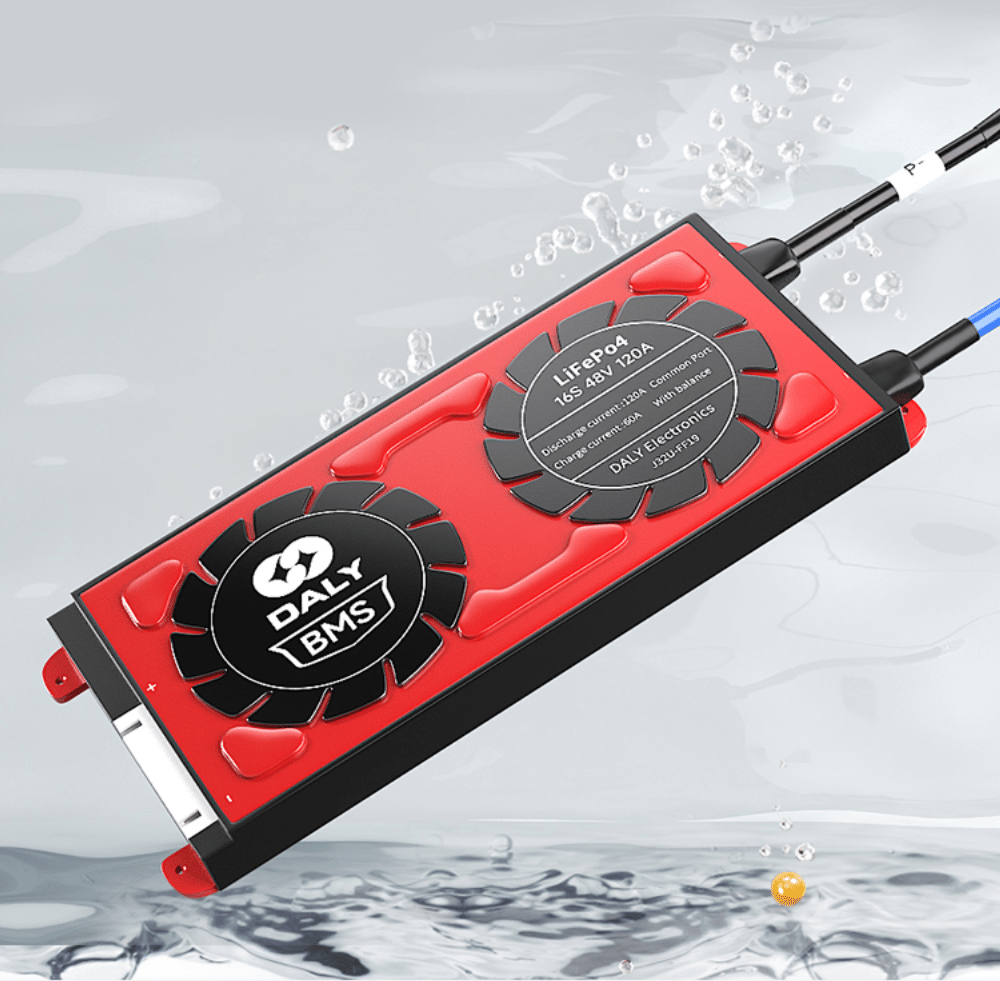 The High-Precision Chips and Functions
Only by realizing high-precision detection and high-sensitivity response to voltage and current, the BMS can achieve great protection for lithium batteries. Daly standard BMS adopts IC solution, with high-precision acquisition chip, sensitive circuit detection and independently written operation program, to achieve voltage accuracy within ±0.025V and short-circuit protection of 250~500us to ensure the efficient operation of the battery and easily handle complex solutions.
For main controlling chip, its flash capacity up to 256/512K. It has the advantages of chip integrated timer, CAN, ADC, SPI, I2C, USB, URAT and other peripheral functions, low power consumption, sleep shutdown and standby modes.
In Daly, we have 2 DAC with 12-bit and 1us conversion time (up to 16 input channels).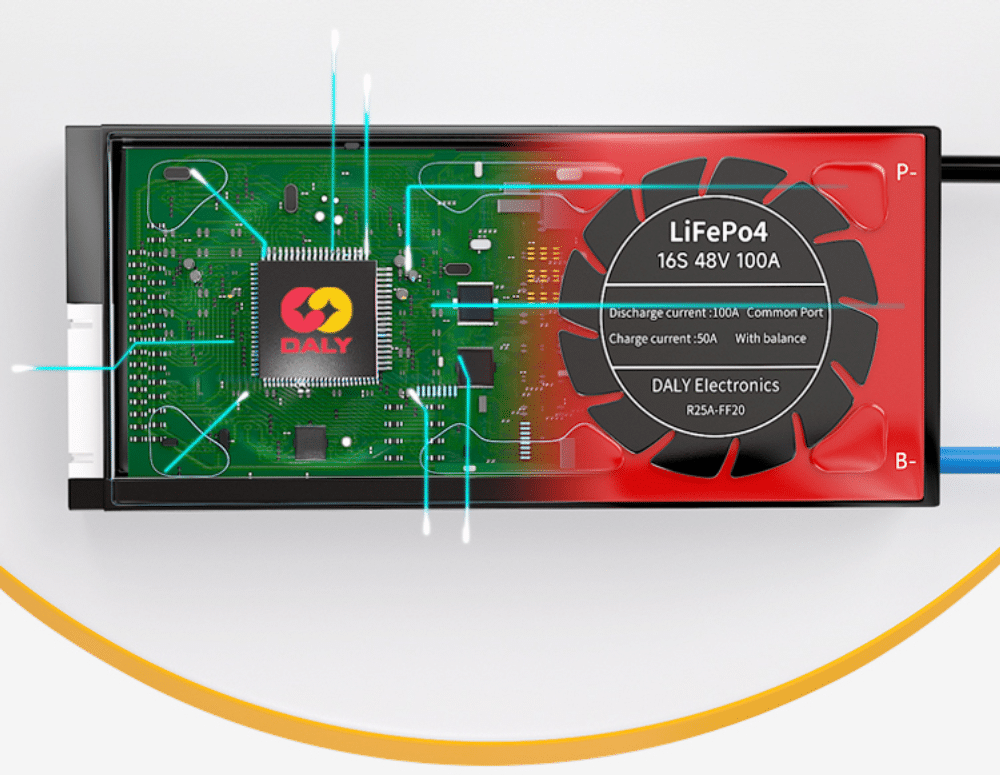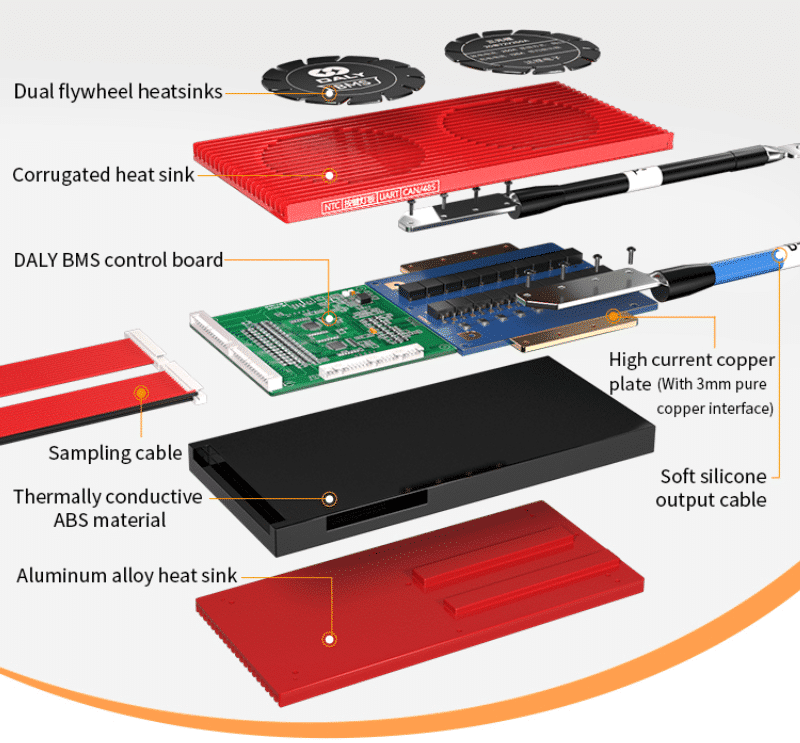 Daly intelligent BMS adopts professional high-current wiring design and technology, high-quality components such as high-current copper plate, wave-type aluminum radiator, etc., to withstand the shock of high-current. 
A Technical Team of 100 Engineers
Daly professional engineers are here to provide one-on-one technical support and service. With deep theoretical and rich experience, our experts can solve customers' all kind of problems within 24 hours.

Strong production capacity
With more than 500 skilled technicians, 13 intelligent production lines, 20,000 square meters of anti-static workshop, the annual output of Daly BMS is more than 10 million. Daly BMS are sold well around the world with sufficient inventory. Customized products can be delivered quickly within the deadline from customer's order to the final delivery.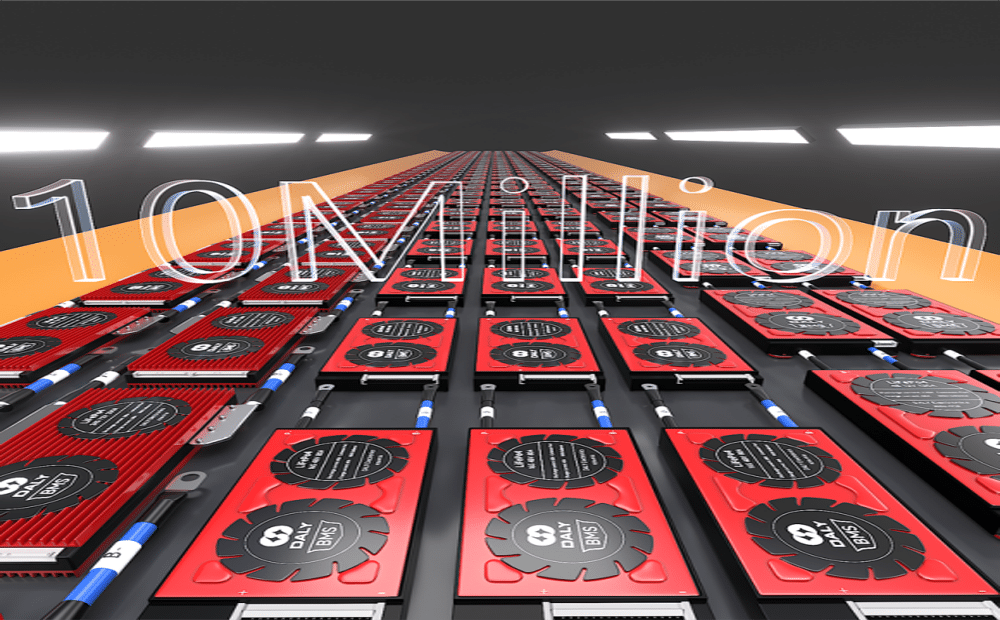 All kinds of Application Are Available
DALY BMS can be applied to various lithium battery applications such as electric two-wheeler/three-wheeler, low-speed four-wheeler, AGV forklift, tour car, RV energy storage, solar street lamp, household energy storage, outdoor energy storage, base station and so on.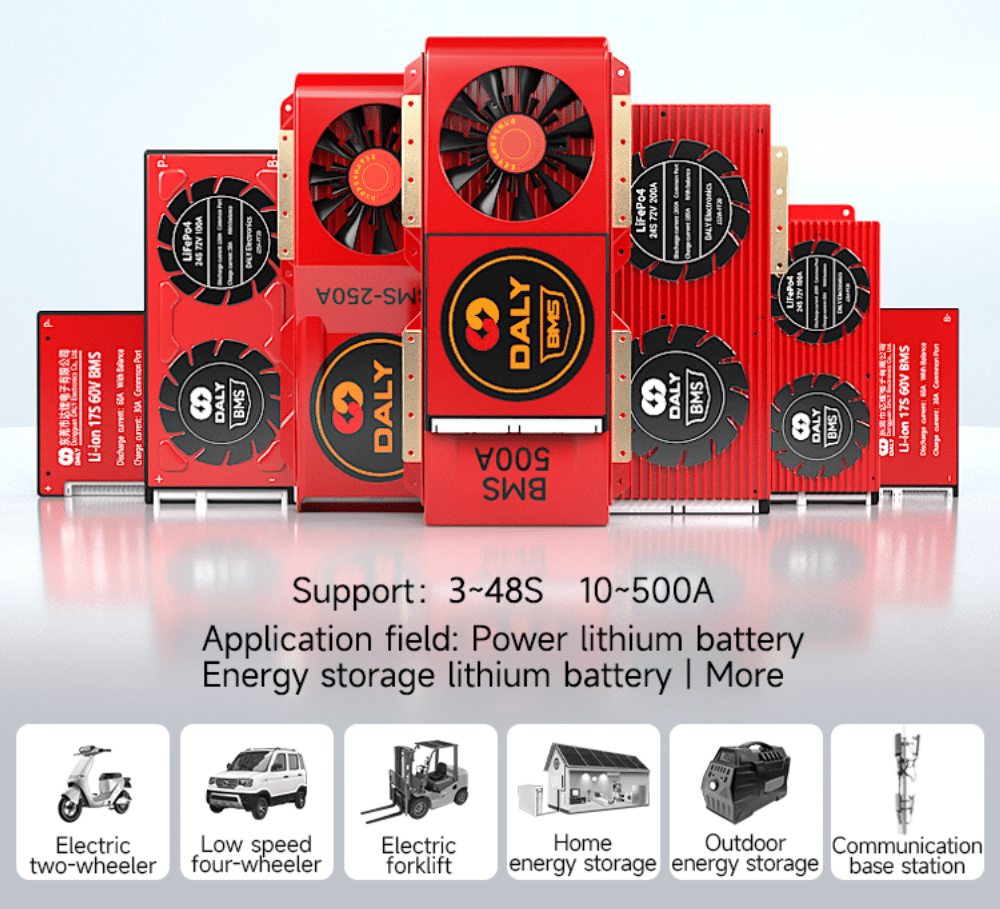 Nearly 100 patented technologies for BMS
Daly is a technologically innovative enterprise focusing on the R&D, production and sales of BMS.
In 2018, the "Little Red Board" with a unique injection technology quickly hit the market; smart BMS was promoted in a timely manner; nearly 1,000 types of boards were developed; and personalized customization was realized.
In 2020, DALY BMS continued to strengthen R&D development, manufactured the "high current," "fan type" protection board.
In 2021, the PACK parallel BMS was developed to realize the safe parallel connection of lithium battery packs, effectively replacing lead-acid batteries in all fields.
In 2022, DALY BMS continue to optimize the brand and market management, and strive to become the leading enterprise in new energy industry.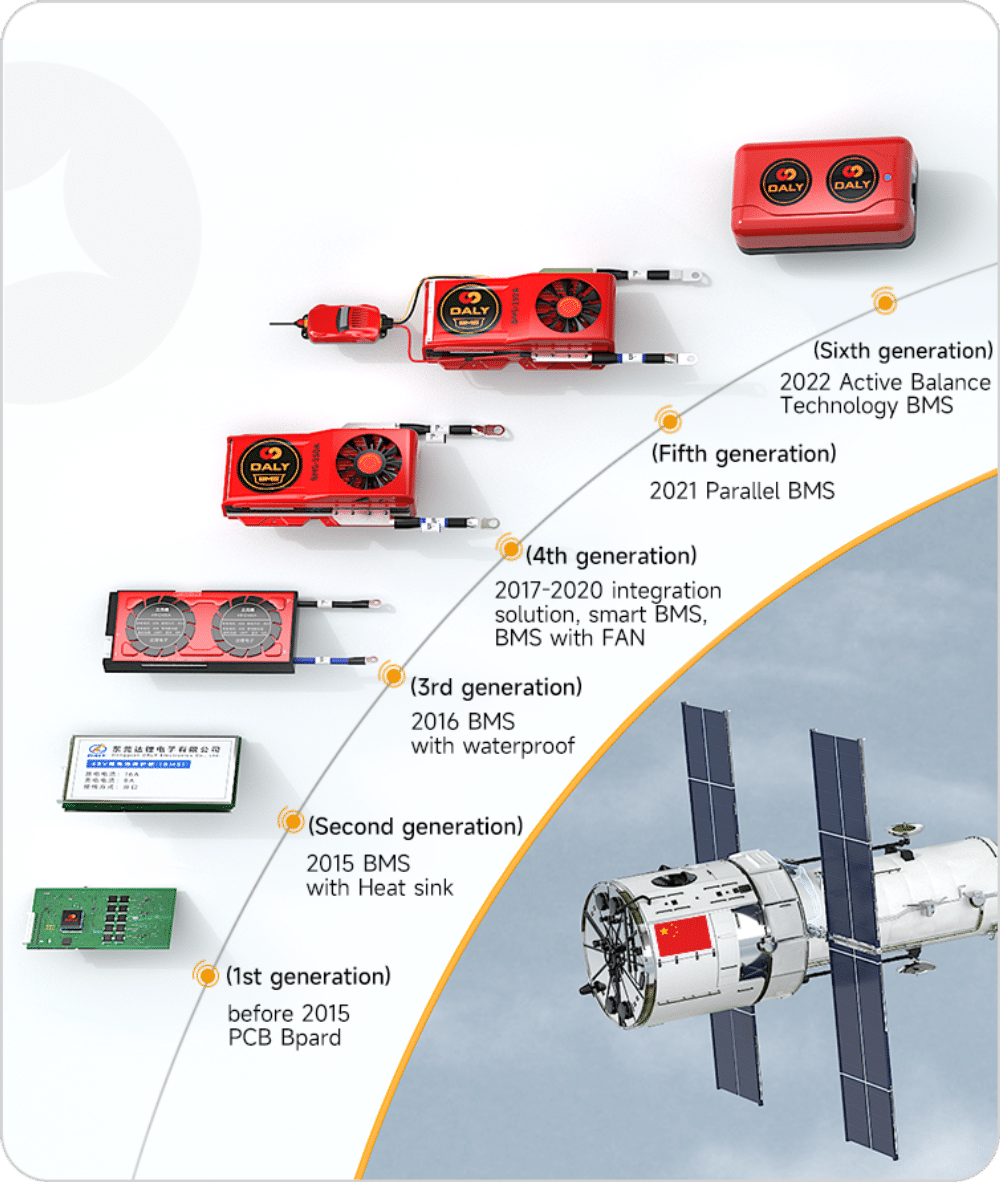 Innovate intelligent technology to create a clean and green energy world.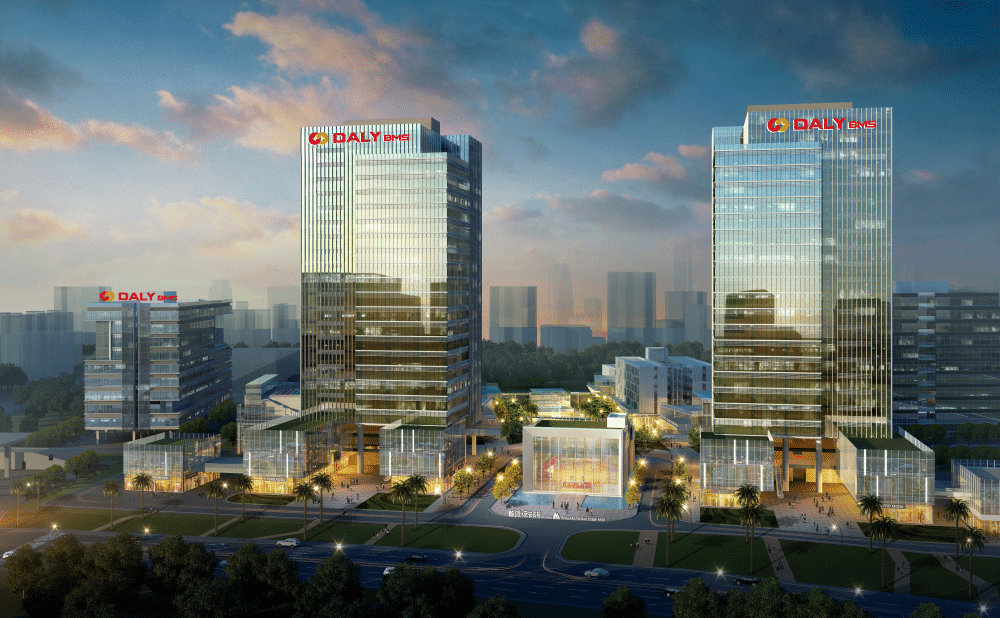 In Daly, our leaders are proficient in researching and developing BMS. They lead the Daly technical team to obtain several important technical achievements in the fields of electronics, software, communication, structure, application, quality control, technology and material, which support Daly to build a high-end BMS.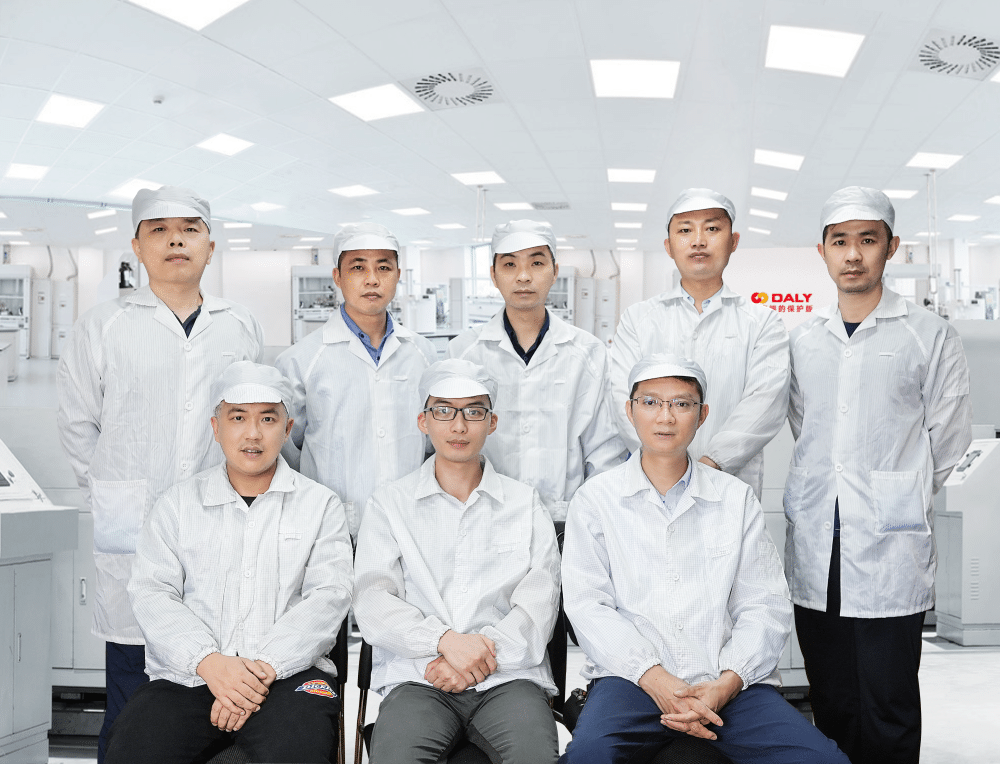 Daly Cooperated with More Than 130 Countries
Up to now, Daly BMS has created value for customers in more than 130 countries and regions around the world.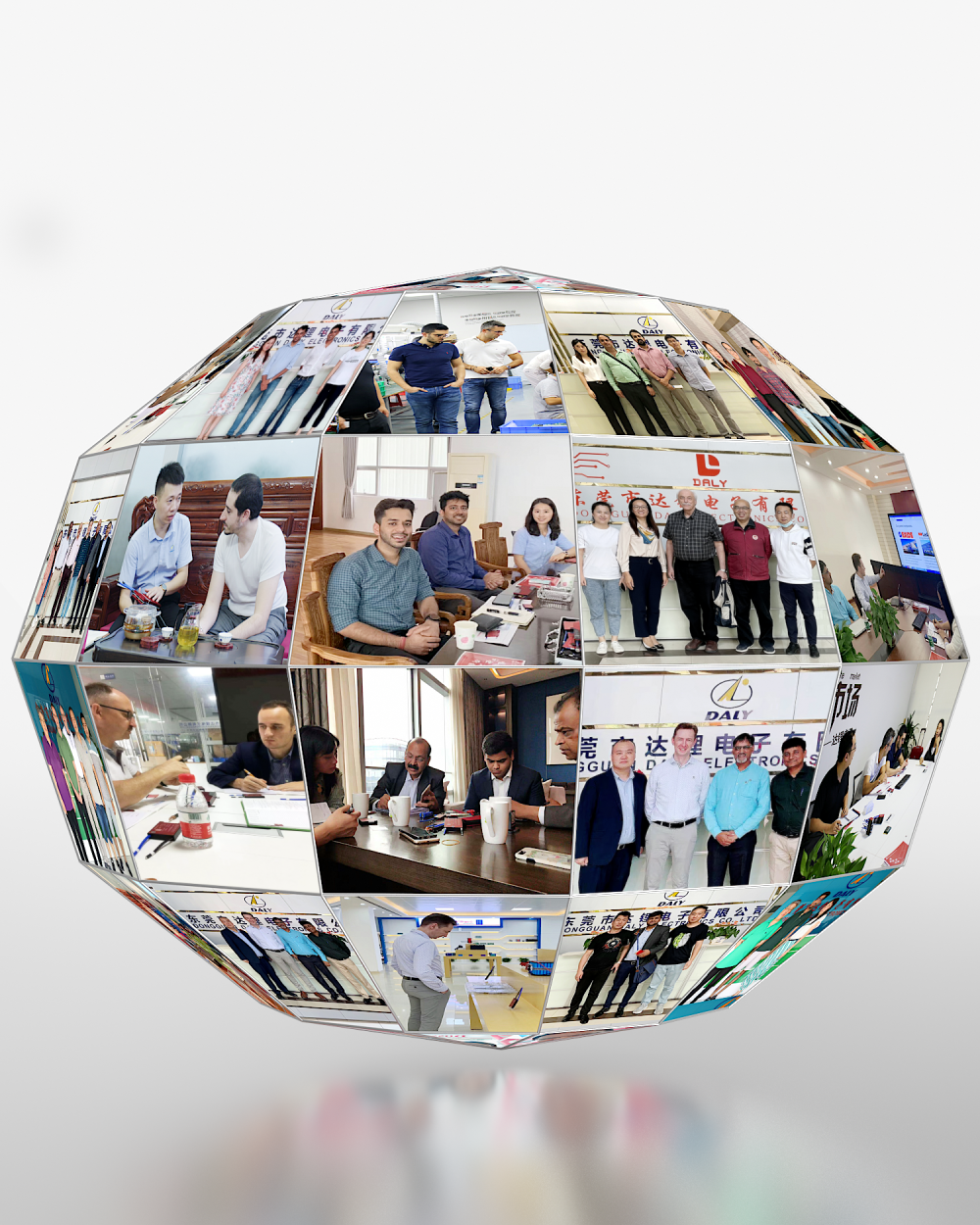 Daly BMS at major exhibitions around the world
India Exhibition / Hong Kong Electronics Fair China Import and Export Exhibition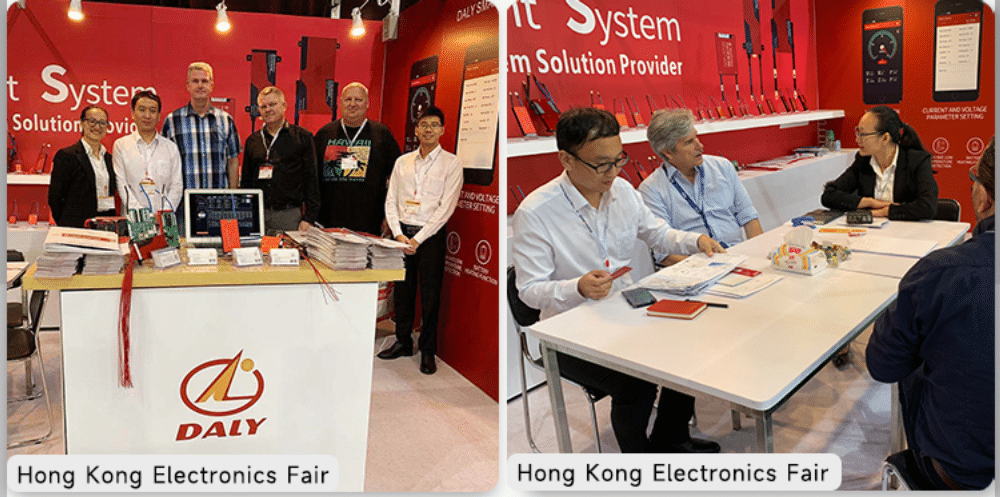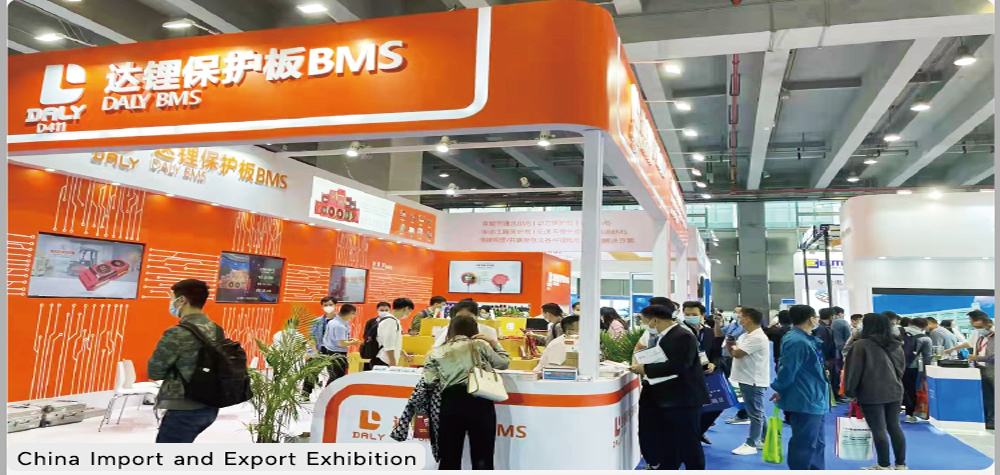 DALY BMS has obtained a number of patents and certifications at home and aboard.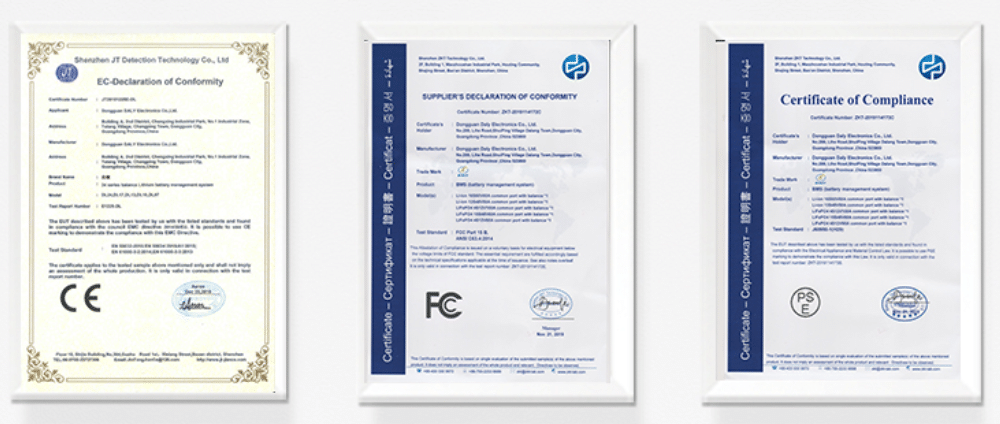 DALY company engaged in R&D, design, production, processing, sales and after-sales maintenance of Standard and smart BMS, professional manufacturers with complete industrial chain, strong technical accumulation and outstanding brand reputation, focusing on create "more advanced BMS", strictly carry out quality inspection on each product, obtain the recognition from customers around the world.
Please view and confirm the product parameters and details page information carefully before purchasing, contact with online customer service if have any doubts and questions. To make sure you are buying the correct and suitable product for your use.
Return and exchange instructions
Firstly, Please carefully check whether it is consistent with the ordered BMS after receiving the goods.
Please operate in strict accordance with the instruction manual and the guidance of customer service personnel when installing the BMS. If the BMS does not work or is damaged due to misoperation without following the instructions and customer service instructions, customer need to pay for repair or replacement.
please contact customer service personnel if have any questions.
---
---
Write your message here and send it to us