DALY Active Equalizer Optional Instructions
Product Detail
Product Tags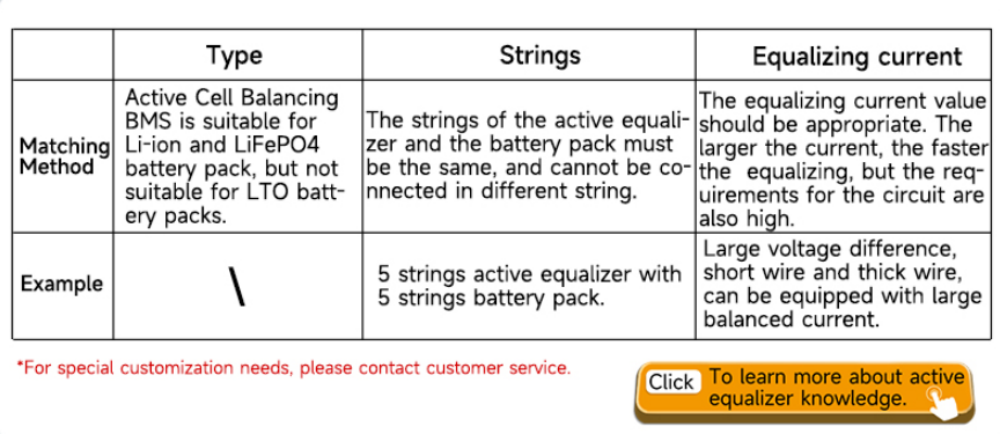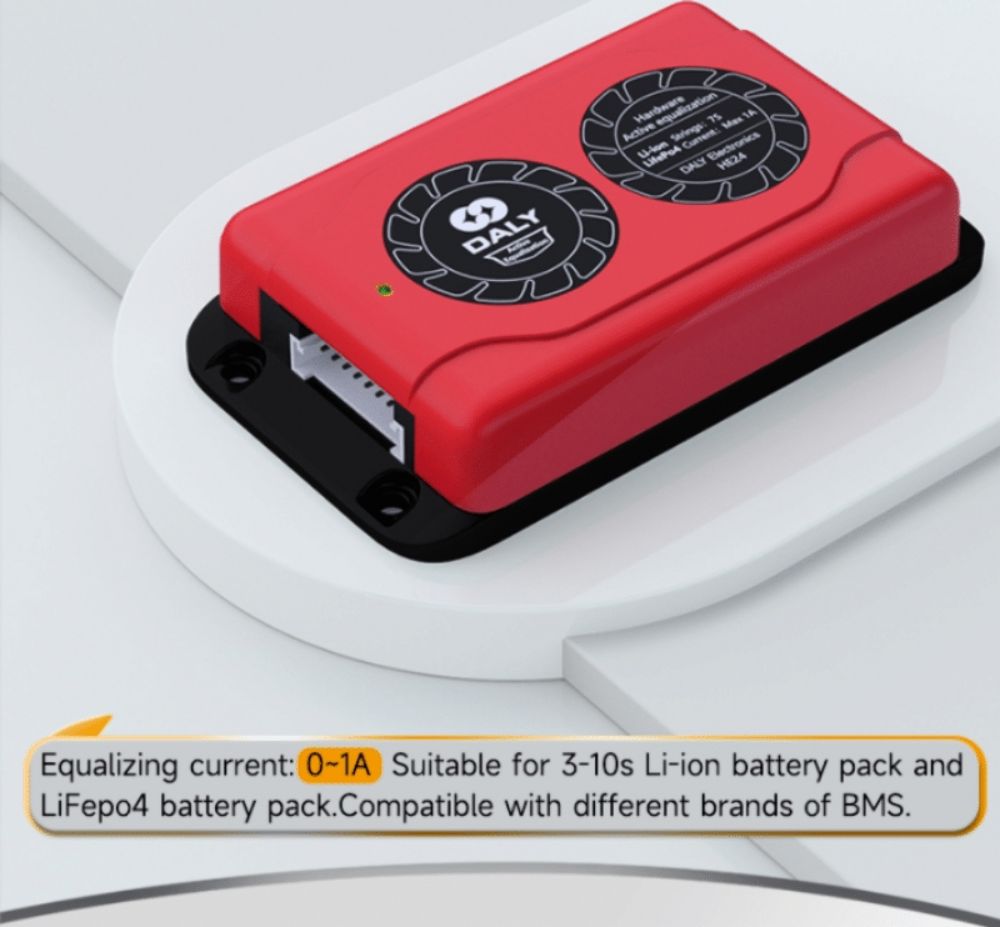 Sensitive Detection Full Time Active Equalization It will not be restricted by battery charging, discharging, static, dormant state, etc. Once the cell voltage triggers the active equalization, it can automatically start power transmission until voltage equalizing.
Improve performance Delay deterioration
Realize energy transfer between cells, prevent premature deterioration of some cells, so that the overall battery pack power stronger and more stable.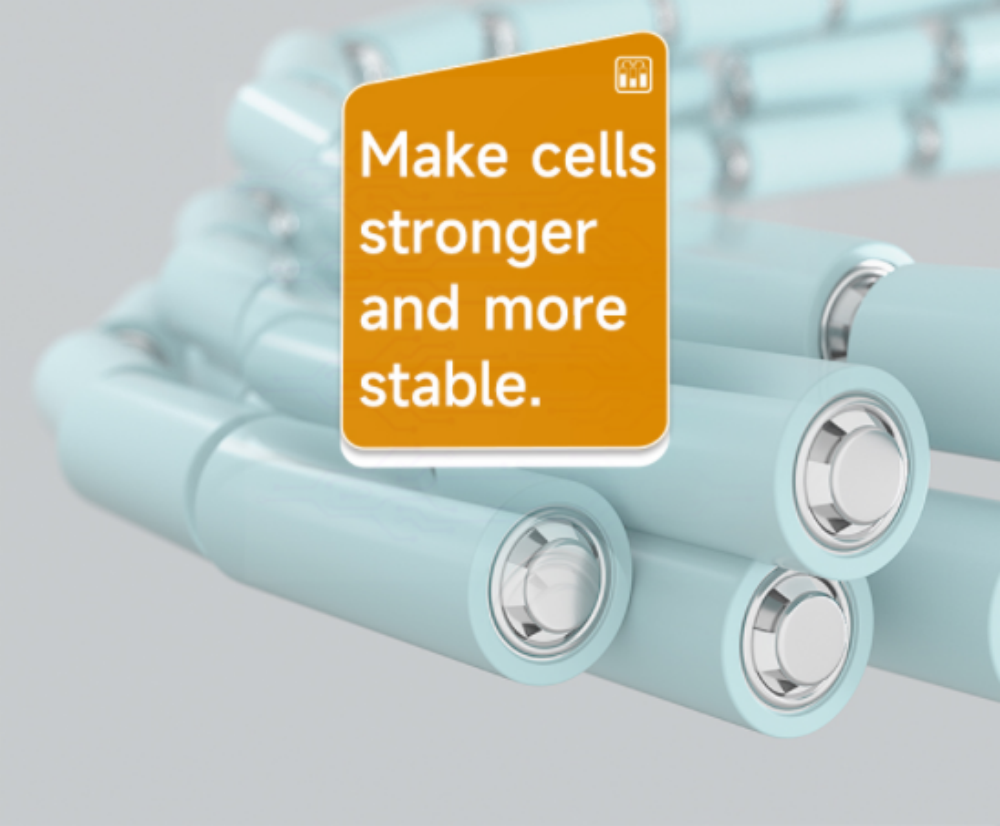 Equalization of Power Transfer
Transfer power with O~1A current, non-internal resistance energy dissipation equalization and low heating, can be connected to the battery pack for a long time.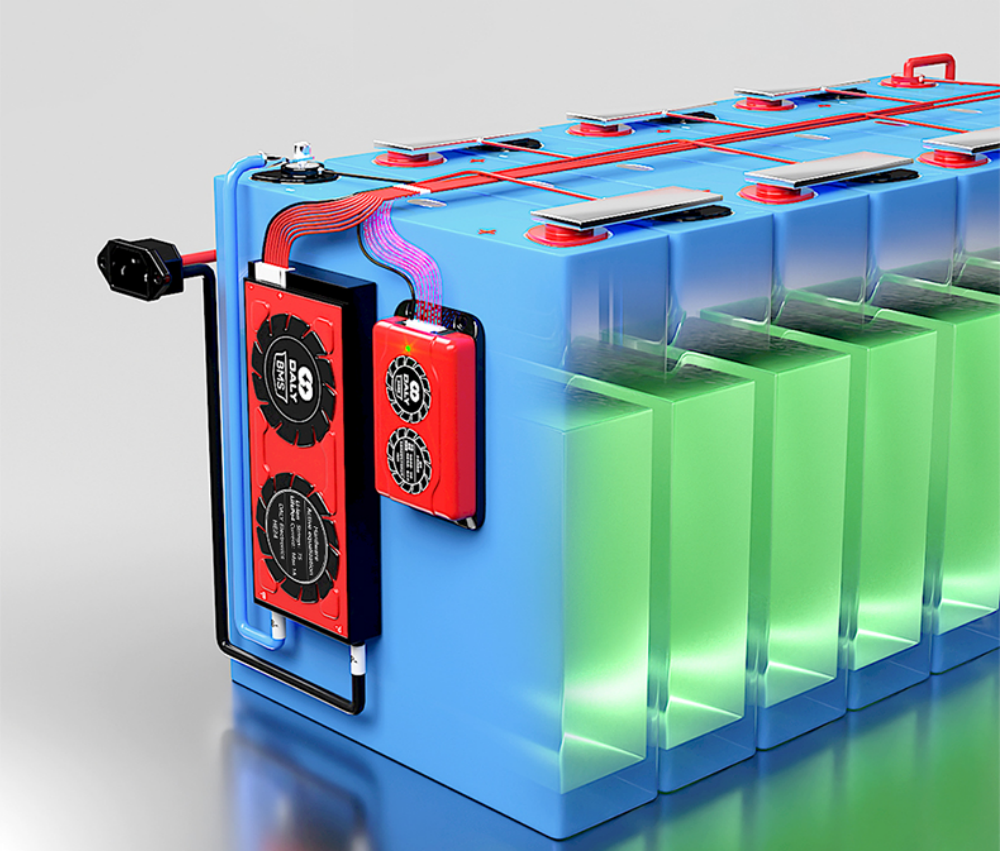 Take 4 battery packs as an example, actively balanced before and after effects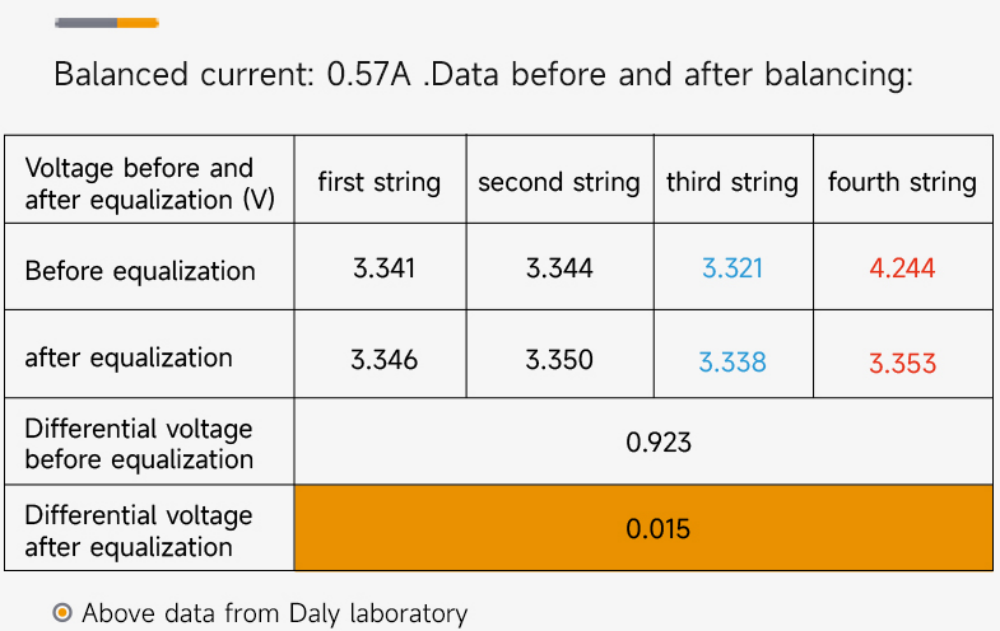 Strong Suitability Easy to Assemble
DALY active equalizer with 24AWG wire, can be accurate voltage acquisition, suitable for different brands of BMS and easy to connect battery packs.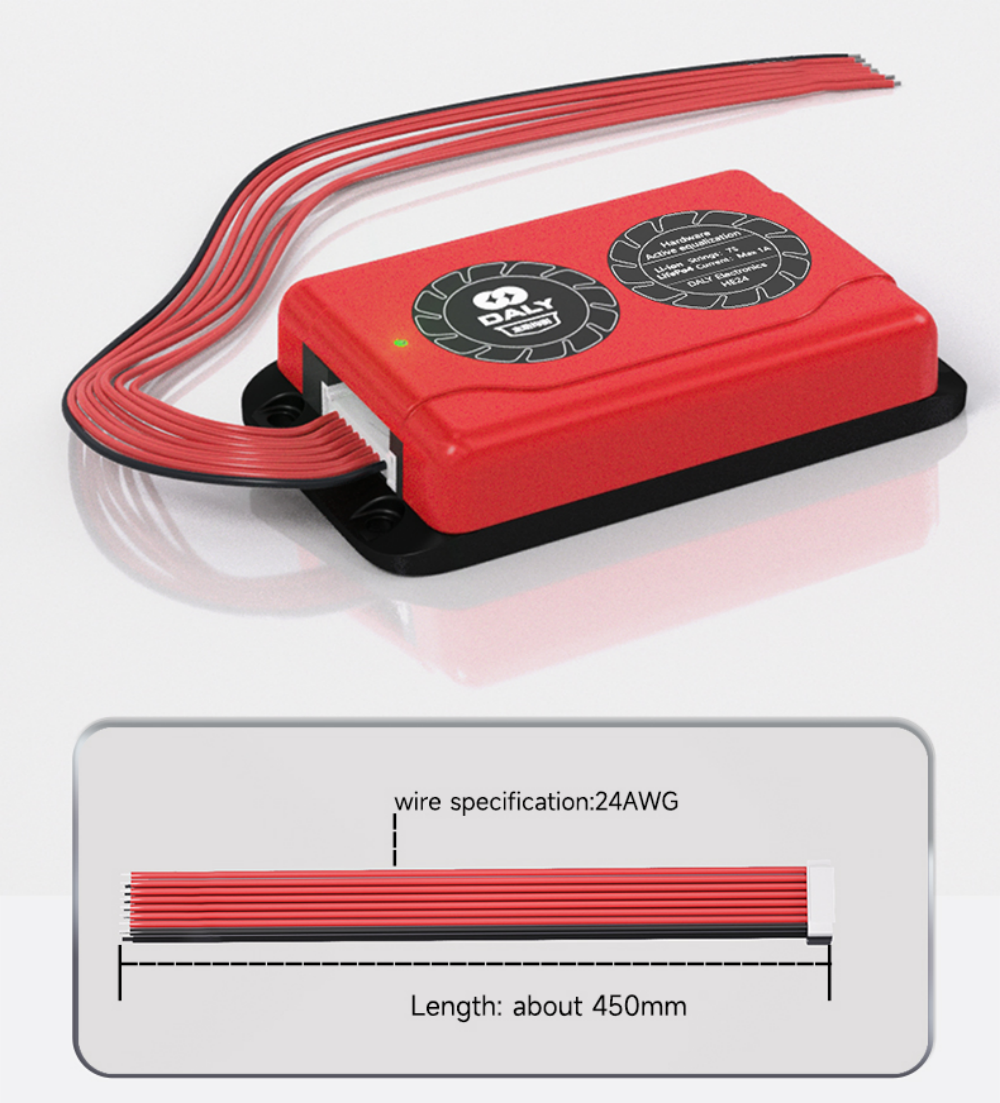 Selected Component Precision Manufacture
Dustproof,shockproof,anti-static,and the shell can withstand 80℃ high temperature.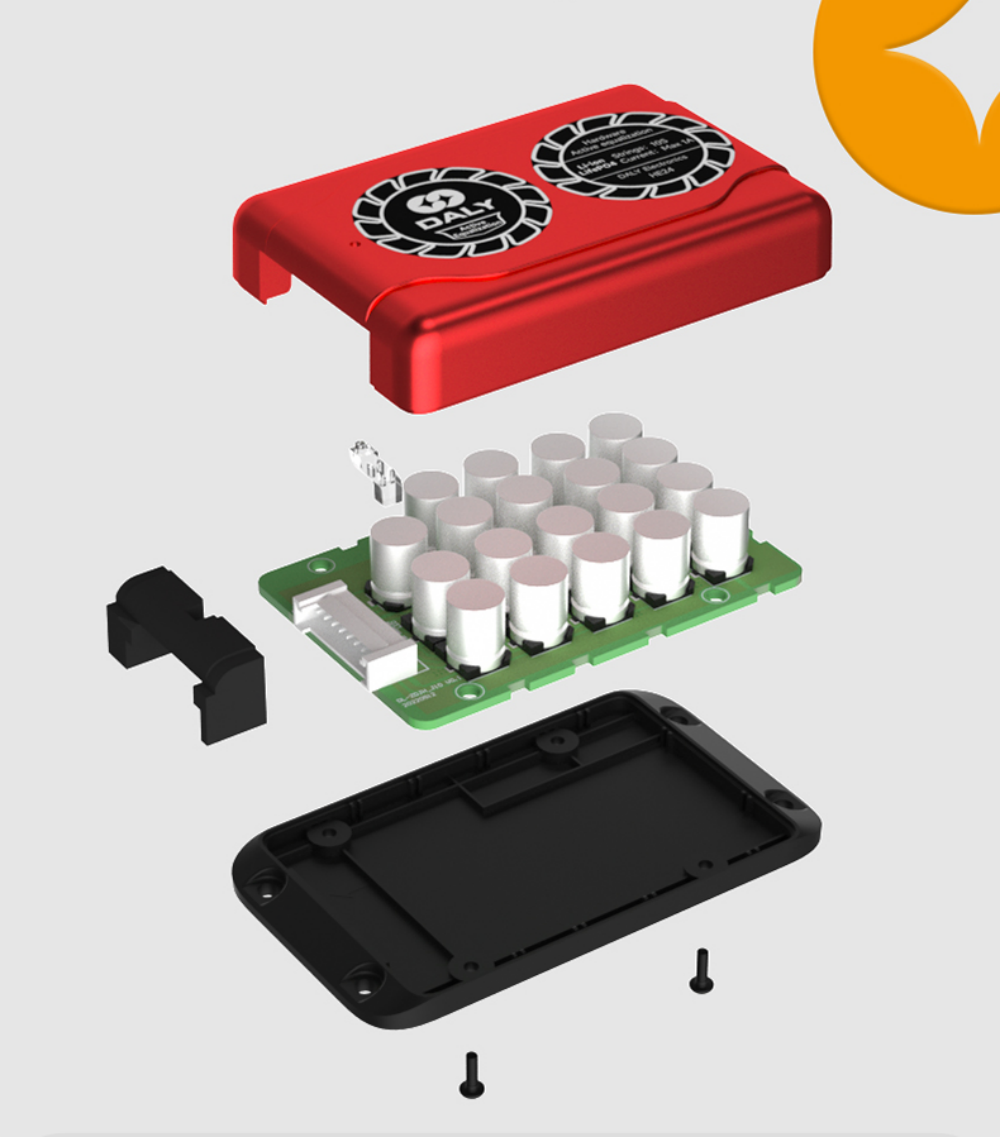 More Advantages Stronger Performance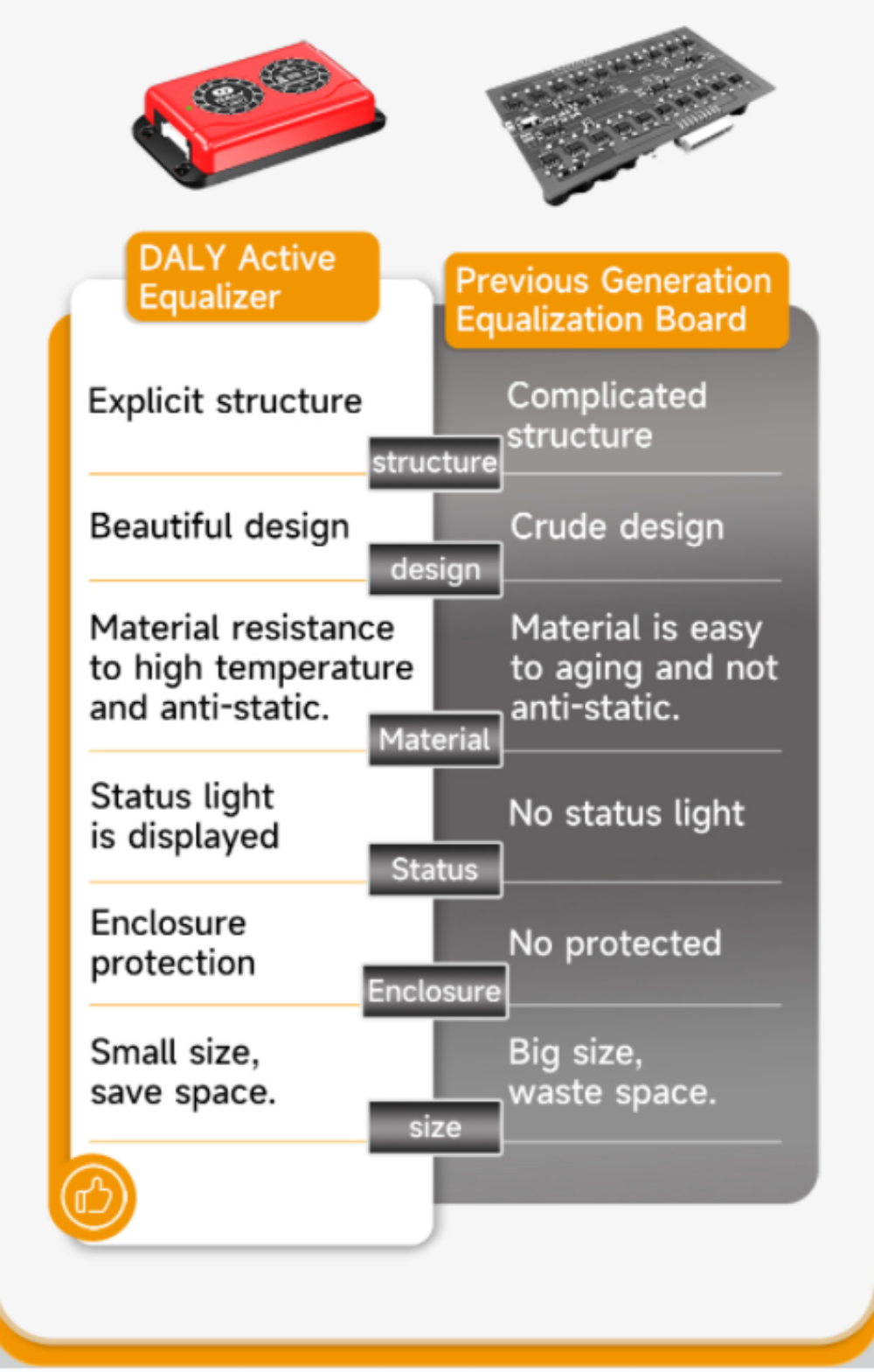 Lithium Electricity Standard Wide Application
Suitable for Li-ion, LiFePO4, and LTO battery packs.It can protect the voltage balance of the cell when installed in the battery pack.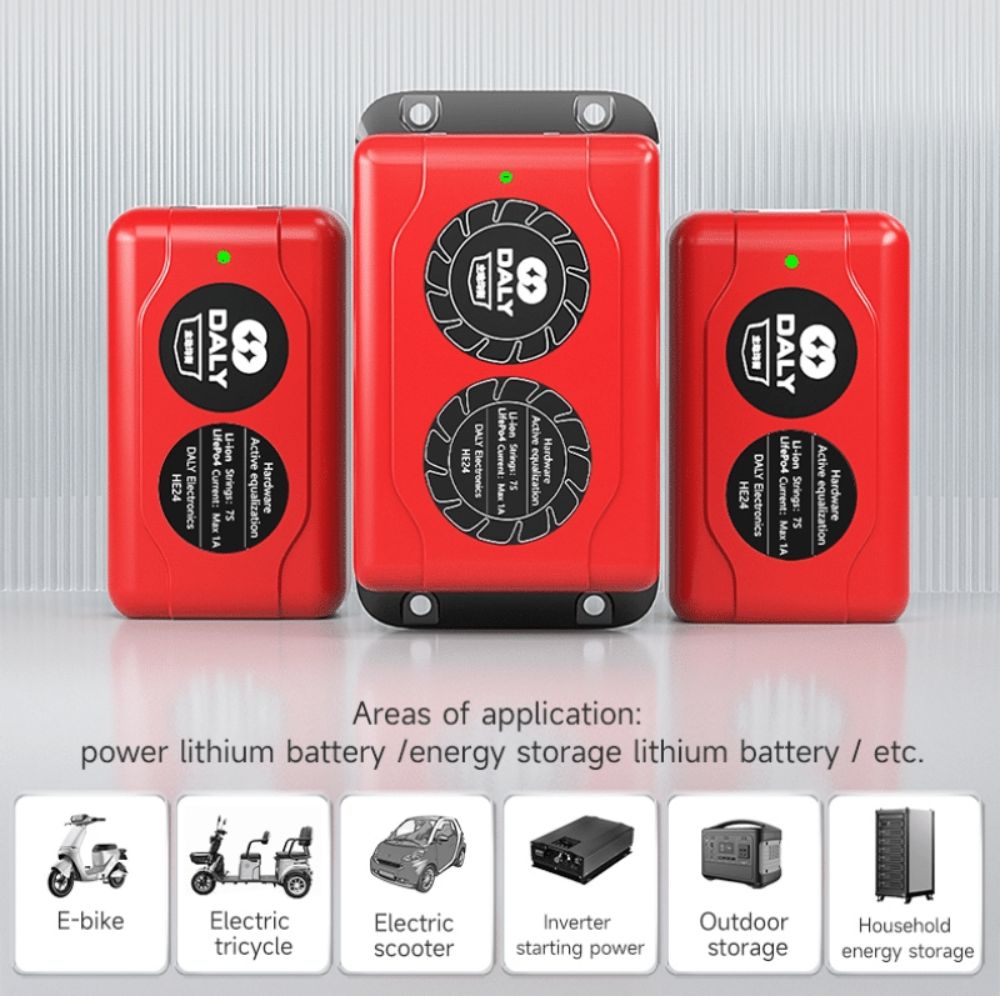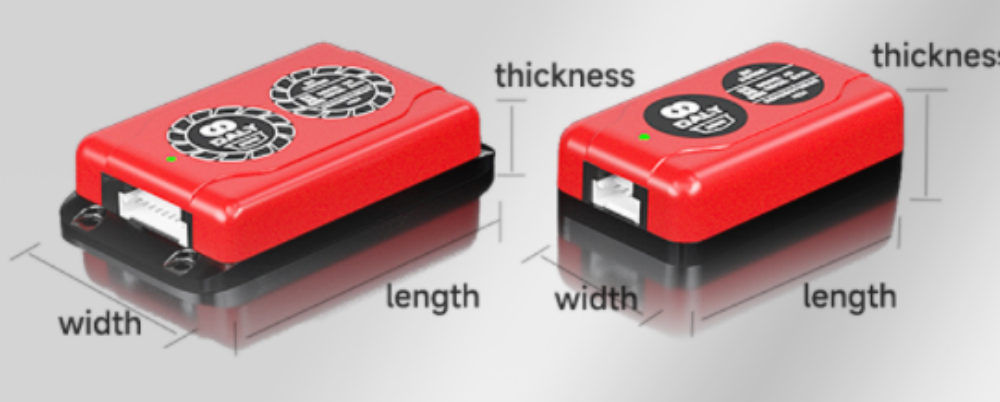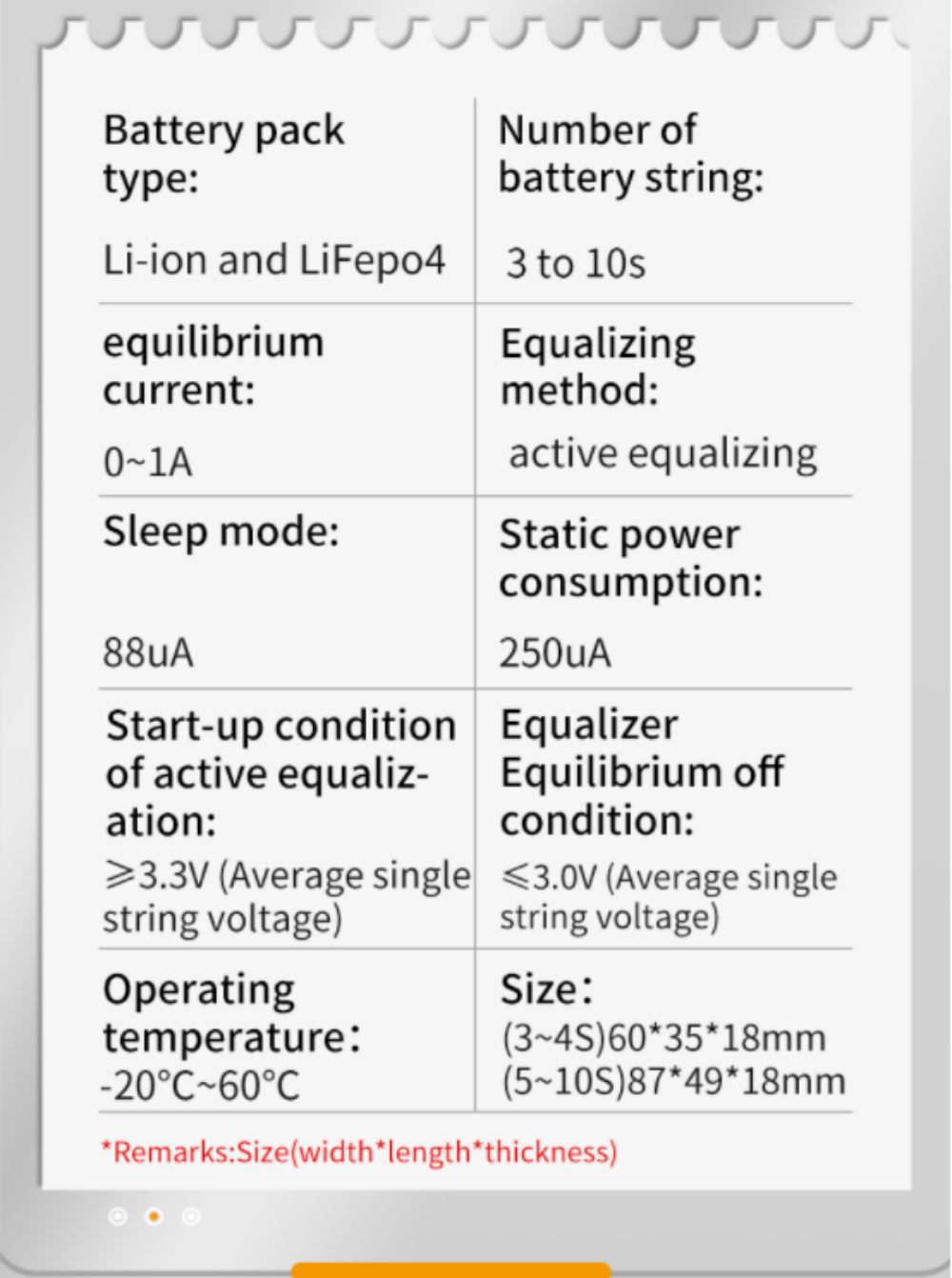 wiring from different manufacturers is not universal, please make sure to use matching wiring.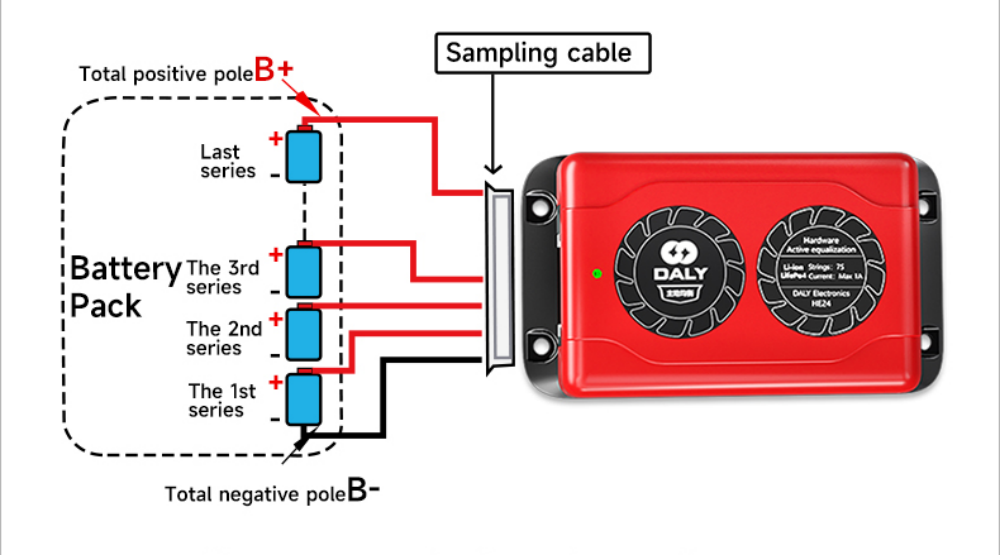 Sequence of battery connection for active equalizer:1.Remember!! Do not insert active equalizer when welding sampling line. 2.Start from the thin black wire connecting the first string of negative battery B-, connect the second wire (red line) to the first string of positive battery,then connect the positive and negative terminals of each strings of batteries in turn, until the last string of total positive terminal B+.
3.After the wiring is connected, the plug should not be directly inserted into the active equalizer. Use a multi-meter to measure the voltage between each two adjacent metal terminals through the back of the cord plug, or use a cord detector to measure the voltage directly. If it is Li-ion battery voltage should be between 3.0~4.15V,LiFepo4 battery should be between 2.5~3.6V, LTO battery should be between 1.8~2.8V,ensure that the voltage is correct before the next operation.
4.Insert the line into the active equalizer.
Finally, if you have any questions please contact customer service to help you solve.
Innovating intelligent technology, and creating a clean green energy world.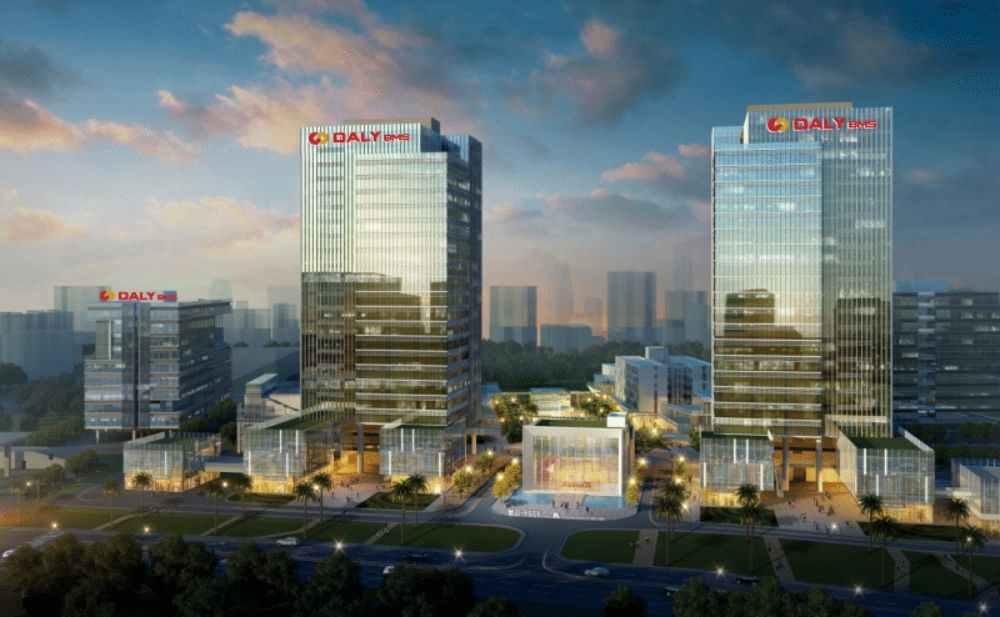 Strong Production Capacity Annual output of various types of BMS more than 10 million.
DALY company engaged in R&D, design, production, processing, sales and after-sales maintenance of Standard and smart BMS, professional manufacturers with complete industrial chain, strong technical accumulation and outstanding brand reputation, focusing on create "more advanced BMS", strictly carry out quality inspection on each product, obtain the recognition from customers around the world.
Please view and confirm the product parameters and details page information carefully before purchasing, contact with online customer service if have any doubts and questions. To make sure you are buying the correct and suitable product for your use.
Return and exchange instructions
1.Firstly, Please carefully check whether it is consistent with the ordered BMS after receiving the goods.
2.Please operate in strict accordance with the instruction manual and the guidance of customer service personnel when installing the BMS. If the BMS does not work or is damaged due to misoperation without following the instructions and customer service instructions, customer need to pay for repair or replacement.
3.please contact customer service personnel if have any questions.
1.Ships within three days when in stock(Except holidays).
2.Immediate production and customization are subject to consultation with customer service.
3.Shipping options: Alibaba online shipping and customer's choice(FEDEX, UPS,DHL,DDP or economic channels..)
Product warranty: 1 year.
Picture 18
1. The BMS is a professional accessory. Many operating errors will result in
product damage, so please follow the instructions manual or wiring video tutorial for compliance operation.
2. Strictly forbidden to reversely connect the B- and P- cables of the BMS,
forbidden to confuse wiring.
3.Li-ion, LiFePO4 and LTO BMS are not universal and incompatible, mixed
use is strictly prohibited.
4.BMS only be used on battery packs with the same strings.
5.It is strictly forbidden to use the BMS for over-current situation and unreasonably configure the BMS. Please consult customer service if you don't know how to choose the BMS correctly.
6. Standard BMS are prohibited from being used in series or in parallel connection. Please consult customer service for details if it is necessary to use in parallel or series connection.
7. Forbidden to disassemble the BMS without permission during use. The BMS does not enjoy the warranty policy after privately dismantling.
8. Our BMS has waterproof function. Because of these pins are metal, forbidden to soak in water to avoid oxidation damage.
9. Lithium battery pack needs to be equipped with dedicated lithium battery
charger, other chargers cannot be mixed to avoid voltage instability etc. lead to the breakdown of the MOS tube.
10.Strictly forbidden to revise the special parameters of Smart BMS without
permission. Pls contact customer service if you need to modify it. After-sales service cannot be provided if the BMS was be damaged or locked due to unauthorized parameters modification.
11. The use scenarios of the DALY BMS include: Electric two-wheeled bicycle,
forklifts, tourist vehicles, E-tricycles, low speed Four-wheeler, RV energy storage, photovoltaic energy storage, home and outdoor energy storage and etc. If the BMS needs to be used in special conditions or purposes, as well as customized parameters or functions, please consult customer service in advance.
---
---
Write your message here and send it to us